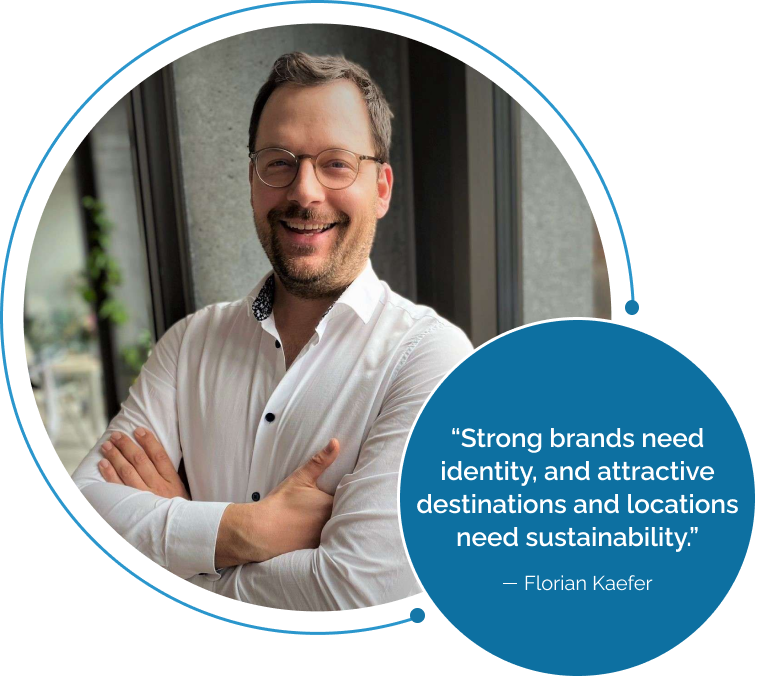 Speaker Profile
As the founder of both The Place Brand Observer and Sustainability Leaders United, Florian has spent the last 12 years learning about the fascinating world of tourism and sustainability, as well as place identity and reputation – mostly by interviewing and connecting with over 500 leading professionals worldwide (and counting). It's their insights, stories, achievements – and also failures – which interest Florian the most, and which he shares via his knowledge platforms.
Benefit from Florian's expertise by having him contribute to your event, workshop, seminar or webinar – online or offline – as a speaker or panel moderator.
Florian holds a PhD in Management Communication (Waikato Management School, New Zealand), a masters degree in sustainable development (Exeter University, UK) and a bachelor in tourism management (Brighton University, UK).
He speaks German (native), English and Spanish, with a good understanding of Catalan and French.
Based near Chur in Eastern Switzerland.
Speaking Topics
Place branding and sustainability leadership: how to connect the dots
Destinations: from marketing to management
Destination sustainability: trends, pitfalls and how to succeed
How sustainability impacts place brands and soft power
Place branding trends and challenges
Insights and lessons from place brand leaders
Other topics might also be possible, please contact Florian.
Testimonial
Jinwoo KIM
"Incheon City invited Florian Kaefer as a keynote speaker for the Incheon World City Brand Forum because we felt he was the person who could give the most meaningful lecture on the topic of creating urban brands. At a time when strategies and priorities for city branding after Corona change, Mr Kaefer's experience and access to a global network of specialists have greatly inspired not only Incheon but cities around the world. We would like to express our gratitude for his participation and hard work for INCBF2020 and we look forward to continuing our cooperation in the future."
Florian has presented at:
Mad Stars Summit
Busan, South Korea (July 2022). Online presentation on World Expos as City Branding Opportunity.
Green Destinations Training
May 2022. Online workshop on Sustainability Leadership & Destination Branding: How to Connect the Dots.
Global Soft Power Summit
London UK (March 2022). Conference presentation on soft power, nation brands and the role of sustainability leadership.
TuesdayTalk LIVE (TTLx) Summit

Malaysia (December 2021). Online presentation on Sustainable Tourism After the Pandemic: Priorities.
Incheon Urban Brand Forum
October 2020. Virtual keynote presentation on City Branding after Covid-19: Priorities and Strategies.
City Nation Place Forum
November 2020. Online roundtable moderation on Place Branding Priorities
How can I support you as speaker?